Branding vs. Marketing: The Importance of Knowing the Difference
Imagine: you develop an NFT collection with sick designs and great returns. But your business is a no-name lost on the 100th Google page.

Why? You underestimated branding and marketing. Reason? It's confusing. We can help you out.

Even though the two are closely related, the difference between marketing and branding is huge.

Marketing is like your profile pic on social media. It's a strategy to advertise your best self, share updates about the product, generate interest, and let people know what you're all about.

Branding is like a mirror. It shows what your company is really like: identity, values, aspirations, and personality. Your customers should see themselves in the reflection of your brand.

Knowing what is the difference between branding and marketing is important to strike a balance between generating value and monetizing it.

Now, let's dive into the details of branding vs marketing.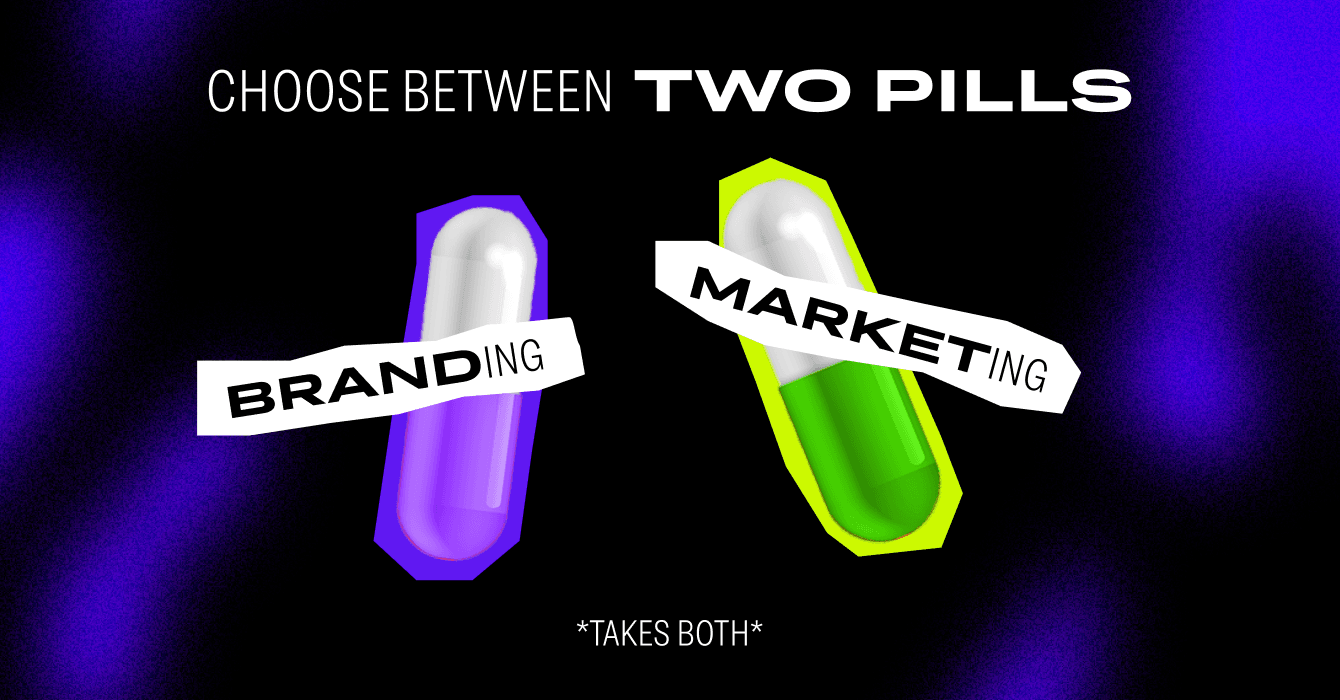 What is Branding?
Branding is like giving the product a vibe, a personality, and a style that's all its own. Think of it as the aura of your NFT collection, what makes the business different from the rest.

Branding is about beliefs. Whether it's pushing art boundaries, spreading positivity, or making a statement, your branding is the soul behind every piece of your NFT drop

Elements of Branding

Elements of branding are details that make or break the brand. It's all unique things that make you different from the rest and create a certain feel about your business. There are tons of things that make your brand pop, but let's take a look at 4 key ones: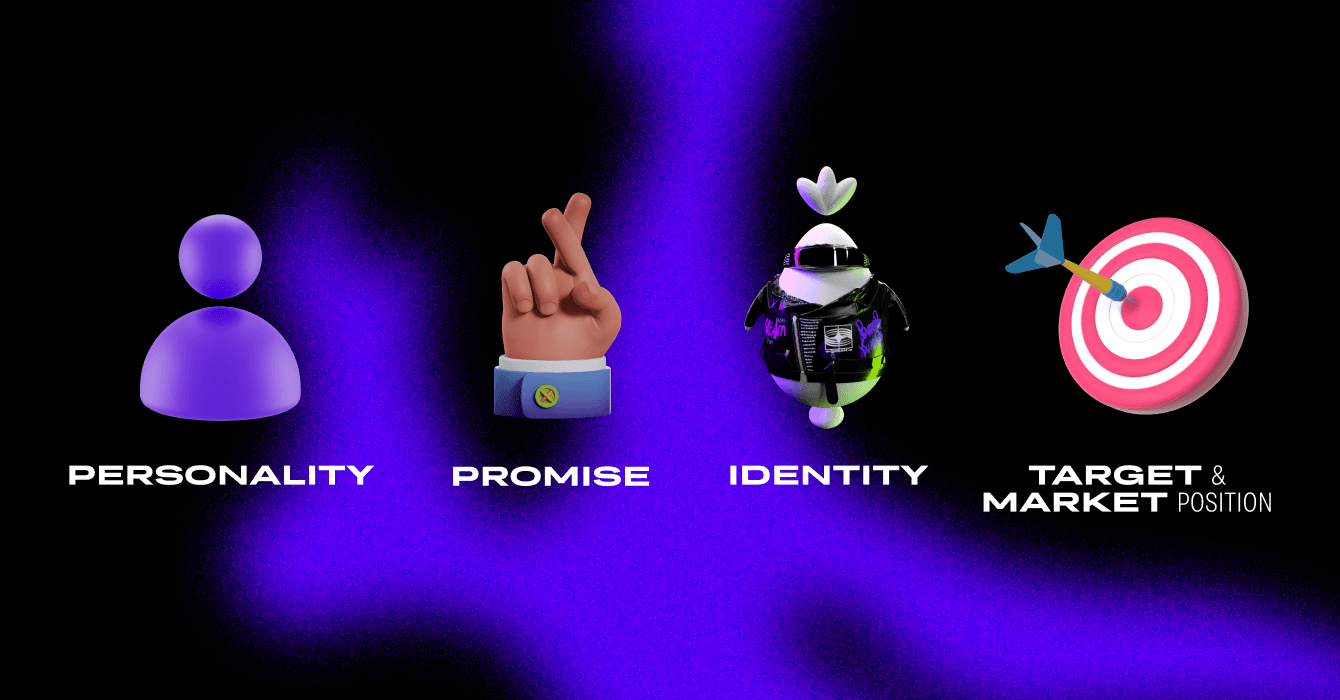 Personality
Personality affects how customers feel about your business and your product, where they see your expertise. Your brand's personality is like the soundtrack to a movie – it sets the emotional tone for the entire experience. It is all about how your business makes people feel through both marketing and branding: calm, adventurous, or just groovin' to its own rhythm.
Are you for tough and ragged rock-n-roll stoics ready to face any challenge? Do you embody exquisite classical compositions reserved only for white-tie events? Do you remind of whimsical country tunes for jamming in a mojo dojo casa house? NFT collections can be classy, trendy, high-brow, or childish. Depends on who you want to sell it to.
Brand Promise
The brand promise is the pledge that sets the expectations for the experience consumers will gain with you. It's made to ensure that every time someone engages with your business, they're in for a consistent experience. Whether it's authenticity, innovation, or creativity, your promise reflects the essence of what your brand stands for. When your promise aligns with what your audience seeks, you become the go-to destination for a specific kind of product.
You can use branding and marketing to promise that your NFT collection will be a hit on a resale market or that you will drop only designs on top of the trends. The main thing is to actually deliver on the promise, then.
Visual Identity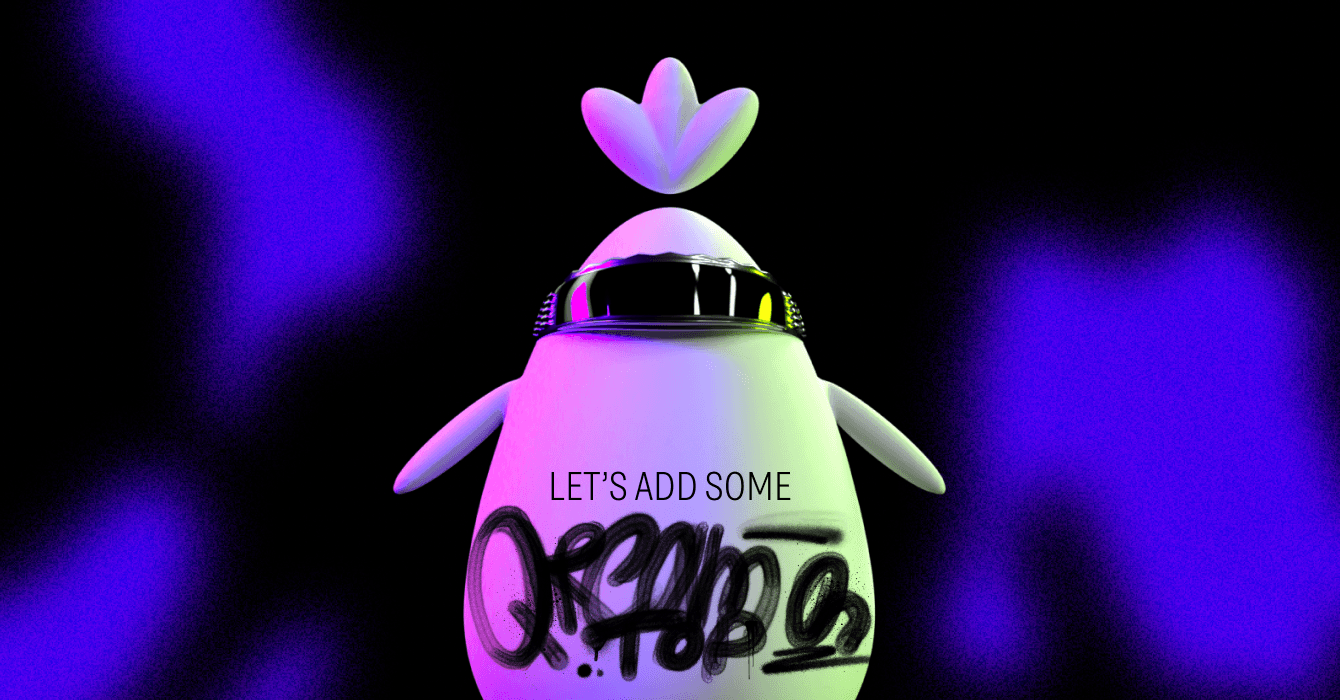 It's all things customers should remember and recognize in the long term to distinguish you from the rest. An ear-worm name, an eye-catching logo, whimsical typography, and maybe a little tagline that captures what your product is all about. It would help you not to get lost among tons of samey NFT anime girls.

Target & Market Position
The target market is the segment you want to capture, who you see buying from you. It is your people, an intended audience you want to capture. Knowing your audience helps tailor your work, messaging, and engagement to reach them specifically through both marketing and branding. When they feel understood, they're more likely to stick around for your journey. Your tribe can be anyone, from corporate sharks to lovely grannies. You just have to figure it out.
Positioning takes one step forward from targeting and determines how your consumers see you compared to the rest of the market. By carving out a specific market position through branding and marketing, you make it easier for the target audience to choose you. Whether you're creating the NFT fantasy worlds, cutting-edge futuristic designs, or fine art-like works, your market position defines the value proposition.
Brand Equity
If your branding strategy works, you earn brand equity that is added value based on a good reputation. Your customers become loyal and await every new drop, your business is featured on all NFT blogs, and your content is seen as superior to no-name brands without lit marketing and branding.
Keller Brand Equity Model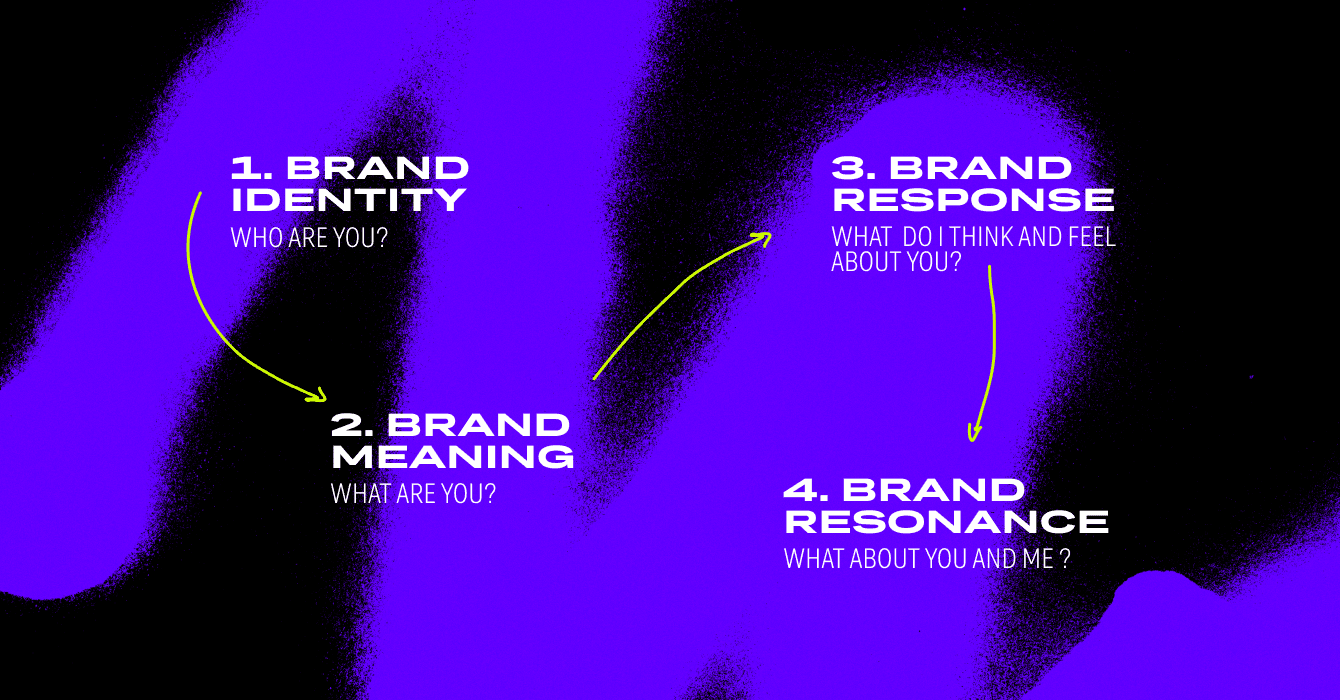 The Keller Model can help you boost brand equity by controlling how customers feel about your business.
Brand Identity
Brand identity is like your brand's DNA. It's all about crafting a clear image that sets you apart. Think of it as your NFT collection's unique fingerprint – the color scheme, logo, and all details of the content that scream "you."
Brand Meaning
Brand meaning is about telling people what your business stands for and why they should care. For example, your NFT designs make a statement about the value of merging tech and art.
Brand Response
The brand response is about how customers react to your brand. Do they know you? Do they trust you? Do they want to support your mission?
Brand Resonance
Finally, brand resonance is about a bond between customers and you based on community, loyalty, and trust. It's when your long-time buyers set push notifications so as not to miss your new drop and leave comments under every cool piece of content. The combination of marketing and branding reaches this effect.
What is Marketing?
Think of marketing as a secret sauce to make your work go from average to a gem. You can create spicy social media posts, maybe some groovy teaser videos, and even collaborate with influencers who vibe with your NFT art style.
Marketing Mix
A marketing mix is a combination of tactics you use to establish your positioning. It contains 4 Ps you should bear in mind: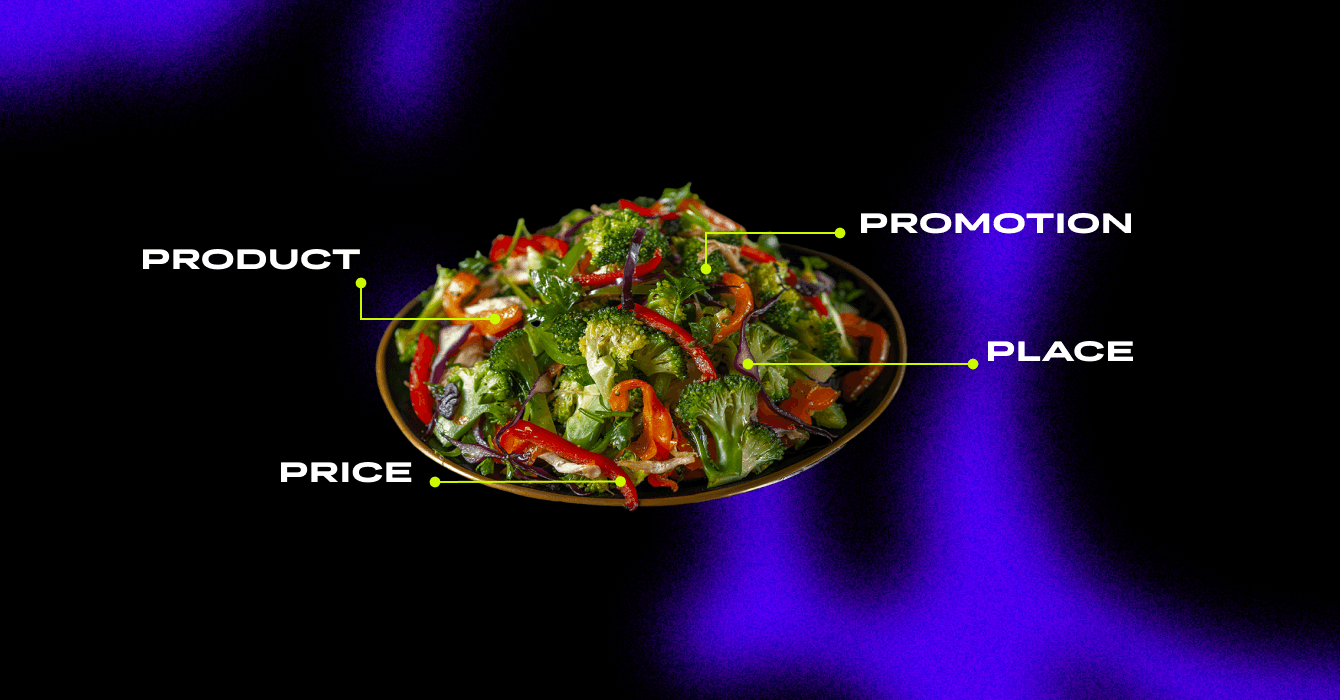 Product
The product element involves shaping what you're bringing to the table and pushing it through branding and marketing. It's about defining your unique offering, whether it's a product, service, or experience.
Promotion
Promotion is the way you communicate about your offering using marketing and branding. Advertising, social media, and word of mouth can help you make sure that the target audience knows what you do and why it's worth their attention.
Place
The place is about where you present your offering. It involves choosing the right channels and platforms to showcase your product so it reaches the target market.
Price
Pricing is deciding the value you attach to your offering. Your pricing should reflect this value while remaining competitive. Marketing and branding can help you justify this price in the eyes of your buyers.
Difference of Branding and Marketing
All considered, what are the main practical things that show the difference between branding and marketing? Here are our thoughts:
Different Strategies
Strategies for reaching business goals are not the same for branding vs marketing. The difference between marketing and branding is that marketing drives numbers, and branding builds reputation.
What Is Marketing Strategy?
Marketing strategy is basically your selling tactics. It involves positioning, promoting, and targeting your stuff based on market analysis.
What Is Branding Strategy?
A branding strategy shapes the perception of your business. It can be done by adding or extending your offering, revamping old identity, or introducing a proxy version of identity for your business niche.
Tools

Branding vs. marketing requires being equipped with varying tools for creating magic.
Branding allows you to get creative with design apps and brand management instruments to keep consistency. All from Canva and Adobe packages to Frontify works.
Marketing needs you to be tech-savvy in instruments for measuring metrics, and schedules and maximizing content efficiency. Think of Google Analytics, MOZ, and HubSpot.
Implementation Time
You can also grasp the difference between marketing and branding based on the timeframes considered by branding vs. marketing.
Branding is about a long-term perspective. It's like the foundation of a building – it takes time to establish and master. You amend branding only when you want to totally change how people see you once in a blue moon (if ever).
Marketing is about a more short-term focus. It's like the energy that propels a vehicle forward – action-oriented and dynamic. It adapts to current trends, seasonal changes, and specific goals.
Communication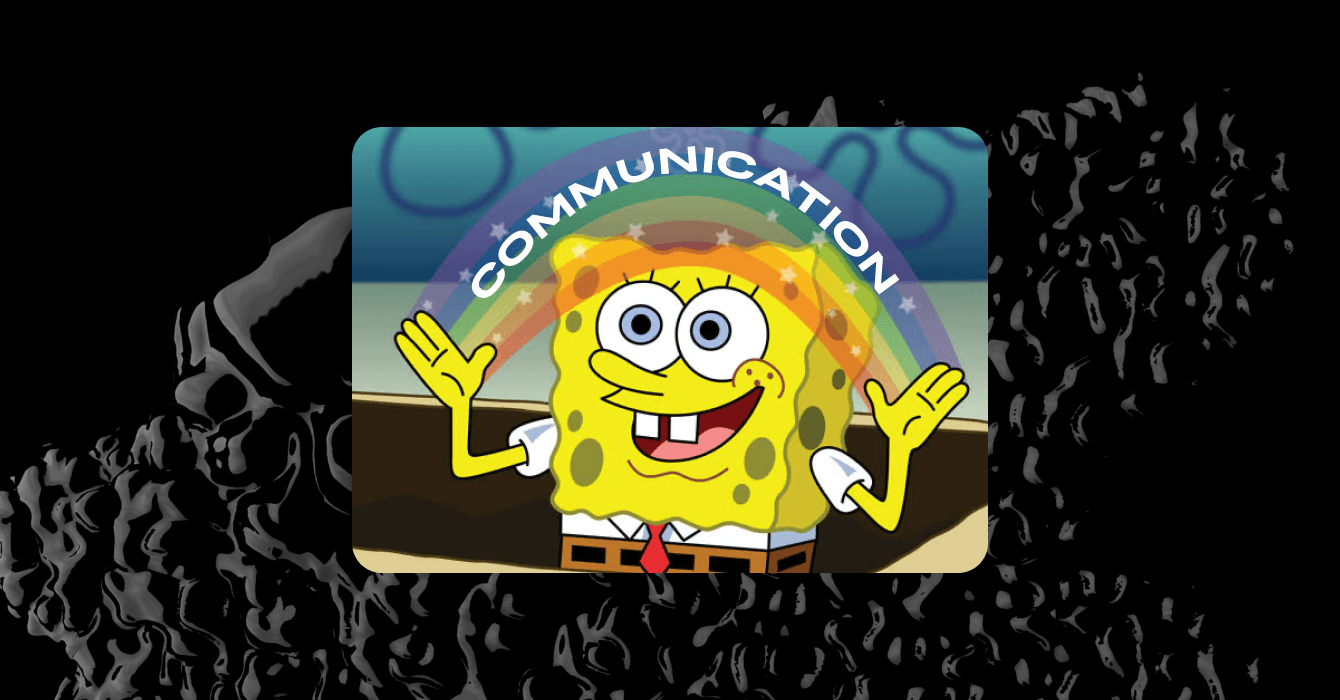 Marketing vs. branding is persuading vs. engaging.
In marketing, you speak to persuade. Communication content aims to encourage immediate action, such as buying or signing up. It is also closely tied to metrics like click-through rates, conversion rates, and engagement metrics.
In branding, you speak to engage. Branding content often involves storytelling that conveys the brand's values, origin, and journey to evoke certain emotions.
Qream Expertise in Branding And Marketing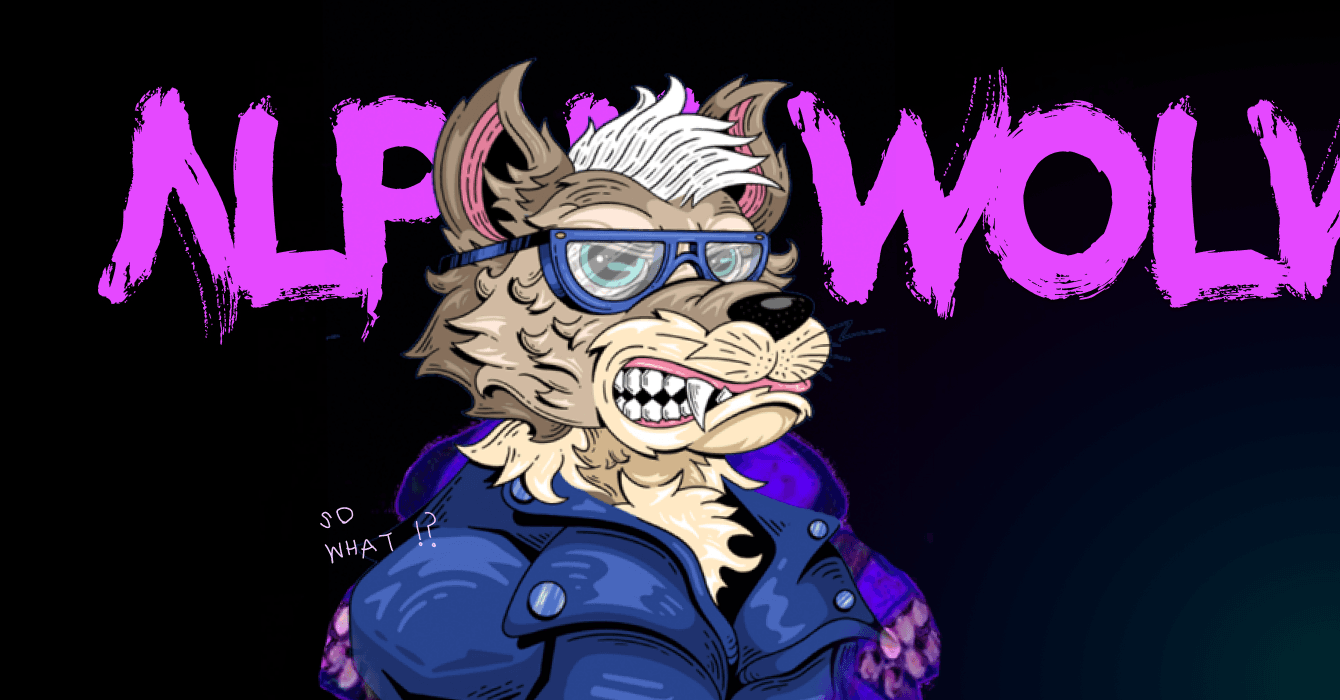 Luckily, we at Qream are masters at both. Check out Funky Wolves, an NFT collection we helped to share with the world (https://funkywolves.com/):
Branding: We helped to develop a bold, fun, badass image with a laid-back tone of voice. Purple-and-black identity colors with neon typography pop. It's a brand for NFT collectors tired of the mundane. The brand promises you an immersion into a funky den of wolf world through NFT art.
Marketing: We aided Funky Wolves to kickstart their content on socials which now creates hype for every new drop. The result: 500 out of 500 beastes reached their owners.
Important Conclusions
Yes, the difference between marketing and branding is in the intentions, methods, and skillsets.
But, see, it is not really marketing VS branding, it's marketing AND branding. Branding creates identity, and marketing shares it. Branding sets the basics, marketing adorns them. Yes, the two should be managed separately, but the result is common: finessing your business.