We're struck by how our lovely Ukraine has united and gone beyond human limits to bring the victory closer.
We couldn't just sit and wait, we had to take an action! So we and our creative colleagues got together to launch a few projects aimed at supporting our Motherland. A volunteer platform, SpivDiia (eng, co-action) is one of them.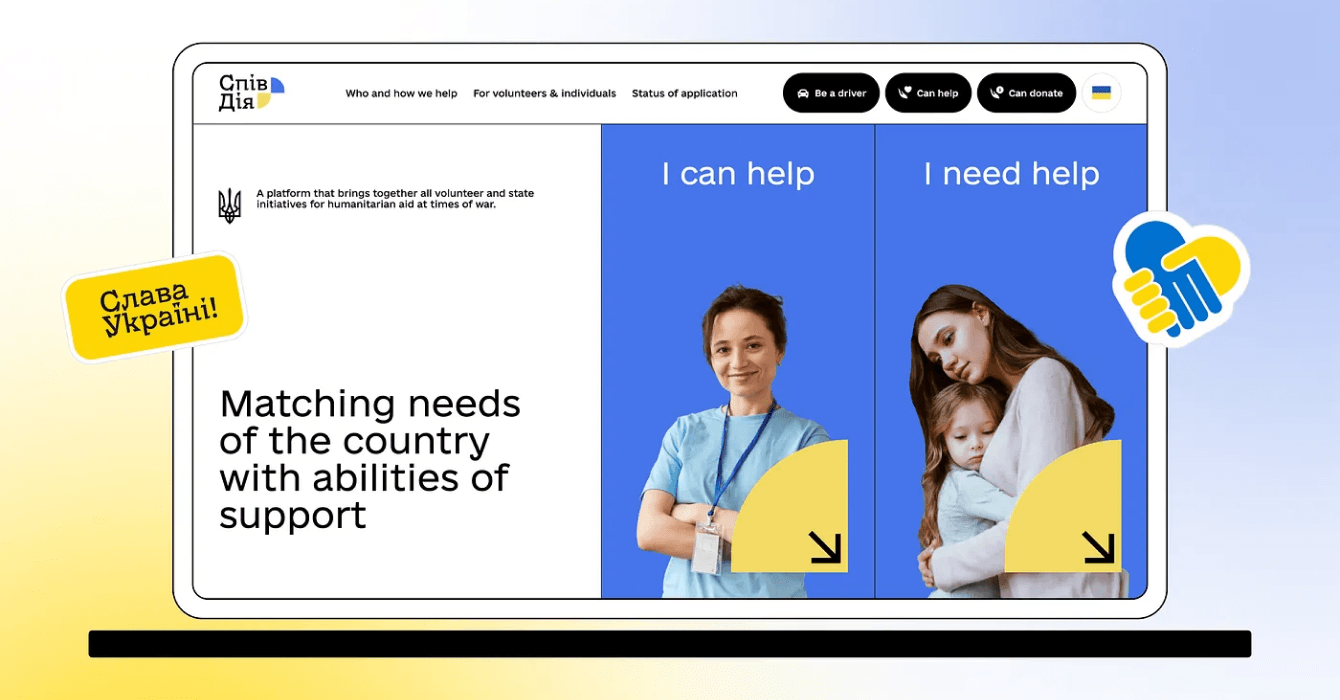 The government encouraging people to support each other
Our specialization is commercial projects for clients from all over the world. But why not use our skills and knowledge to help our country?
Designing for the authorities could be a difficult task. However, not this time. We wanted to prove that collaborations with the government can be modern and approachable. It's not about bureaucracy, but about a country that truly cares about people and helps them.
SpivDiia's concept is simple, it lies in collaborative action — a person helps a person.
In its essence, the platform was meant for bringing together all volunteer and state initiatives for humanitarian aid at times of war. It was a symbiosis of the united efforts of our dedicated team and the President's Office of Ukraine.
Then, in one month the platform got insane support from media and businesses and its ecosystem turned into one of the leading and largest wartime projects in Ukraine backed by the Office of the President of Ukraine, Ministry of Health of Ukraine, Ministry of Reintegration, Ministry of Youth and Sports, USAid, Red Cross, and many other wonderful organizations.
Aid as a service
The beginning of the full-scale war was chaotic and hazy. All the volunteer initiatives were decentralized. We kept thinking about how to help, and what we can do about it. What about combining commercial and social, easy-to-use platform and effectiveness?
In no time, our efforts brought a clear, systematic approach to providing aid across Ukraine. Now, SpivDiia connects thousands of volunteers through its hubs and keeps obtaining more valuable partnerships. Whatever you need, you are guaranteed to get support. From humanitarian aid to safe spaces for children where kids can learn and be social with their peers.
There are many more cool services for every demand. For the entrepreneurs, there is a financial support program that revives the businesses and helps to adapt them. The ones who lost their jobs can get employment assistance. Additionally, everyone is welcome to get psychological support if needed.
Creative sector + State sector = astonishing results
The platform keeps growing and getting international recognition! More requests are coming in, and more people are joining. Today, SpivDiia has 23 hubs in 21 regions of Ukraine with 150 case managers and 40 warehouse partners while already 152,360 people received help.
Support the platform just like the First Lady of Ukraine and Kalush Orchestra do, we always need more people and resources. This project led us to simple but important realizations. Collaborations between the government and the creative sector need to be happening, together even impossible things can be easily done.
SpivDiia is a perfect example of how creativity can bring tangible results and unite people from different sectors.
The numbers speak loud, but the actions and people behind them are even louder.