What Do User Flows In User Experience Design (UX) Mean?
We bet you want the users to be obsessed with your products. For that they need to look and feel satisfying as hell. How do you do that then?
UX design is the answer! It's all about making a product or service easy and enjoyable to use. It is considered to be everything that influences how the user feels and interacts with the product.
The main goal of UX design is to create simple, fast, meaningful, and pleasant experiences for users. Starting without a strategy is not a genius move.
User flows is your strategy - a key to the whole user experience of the product.
UX design is the key to obsessed users. User flows create seamless experiences, boosting conversions and satisfaction while saving time and resources.
Multiple UX flows cater to various goals within a single project. Some steps can be complex, like signing up, while others may be simple, like watching a video.
A well-designed user flow is crucial for any digital product, accurately guiding users to stay engaged and focused.
And why exactly do the businesses need those magical user flows?
🟢To enhance targeted marketing and product development: Dive deep into users' interaction patterns, offering a clear understanding of their behaviors and motivations.
🟢To boost conversion rates: Highlighting where users disengage, pinpointing potential issues. Fixing these leads to a significant rise in conversion rates.
🟢For user satisfaction & customer loyalty: Tailor UX user flows to personas for personalized experiences and increased user satisfaction.
🟢For cost and time efficiency: The proactive identification of potential problems through user flows can save precious time and resources by reducing the need for later adjustments.
🟢To improve the overall user experience: User flows are your design GPS, guiding smart choices on layout and interactions.
See, there's a lot to unpack, so go check out the whole post about UX flows, enjoy!
As Part Of Ux Design, Why Do We Use User Flows?
Let's start by quickly recapping what the hell those user flows are.
What is a user flow? User flow in UX design is a graphic visualization representing the sequence of users' steps and actions in a digital product.
Don't confuse user flow with user journey! To make it clear once and forever:
UX user flow means how easily you move through a website or app. The designer's role is to ensure a positive user experience by strategically planning layout to avoid confusion.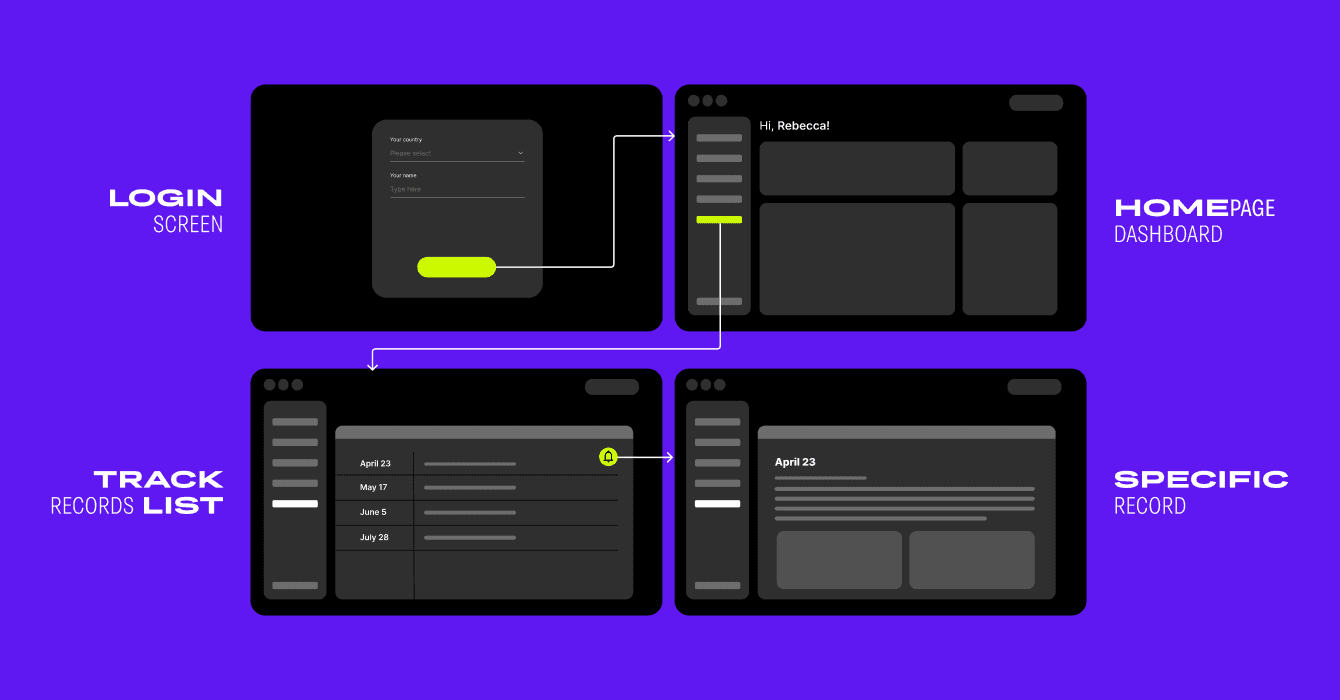 On the other hand, the user journey is more comprehensive. It starts even before you access the website or app. It starts with brand discovery and can include friend recommendations, ads, or social media. It involves engagement decisions, user experiences, and post-interaction feelings.
In essence, the User Journey encompasses everything - your feelings, thoughts, positive and negative experiences, and everything in between.
To conclude the difference between user flows and user journey:
User journeys are like an overall view. They provide a broad picture of a user's experience across all possible points of interaction with the brand over a certain period.
However, user flows are more detailed. They demonstrate the exact actions your users take while navigating through your product. They represent every single interaction a user has with your product. This is the fundamental difference between user flows and user journeys.
So why do we use them?🤔
Imagine embarking on a road trip without a map. Sounds like a nightmare, doesn't it? That's exactly how users feel when they step into an interface without a defined user flow.
User flows are pivotal to UX design as they provide structure and direction. They help designers understand how a user would navigate through an interface to complete a task, making it intuitive and user-friendly. They ensure that users don't get lost or frustrated but instead have an enjoyable and productive experience.
Although, the ultimate objective of your UX design work isn't some altruistic fantasy, it's about making the cash register sing. Understanding and leveraging user flows helps you get inside your users' heads, follow their digital footprints, and create a top-tier user experience.
You want to make their journey smooth, eliminate the speed bumps, and carve out the most direct route to the finish line. A seamless experience makes users more likely to spend without hesitation. It's not rocket science, it's just good business.
Design a User-Friendly Interface
Simple, clean, minimalist. This is your mantra when it comes to designing a user-friendly interface. Keep this in your head but also don't forget about another very important aspect.
Creating a user-friendly interface is all about empathy. It's about stepping into your users' shoes, understanding their needs, expectations, and potential obstacles they might face. The user flow acts as your blueprint here.
Start by defining the user's goal, then sketch out the different steps they'd need to take to achieve this goal. As we said, prioritize simplicity and intuitiveness. The less cognitive load you put on the user, the better their experience will be.
Eliminate unnecessary steps, ensure consistency in design elements, and offer clear feedback to the user's actions.
To understand better, check the following user flow examples in UX design:
🦄 Health app user flow for Apple Watch
🎧A music app user flow
💜Optional product tour showcases features and educates users
Examine the Current Interfaces
When designing a UI/UX user flow, it's essential to examine existing interfaces, check out what others have done. Look at different apps and sites, both in and outside your field. You'll pick up great ideas from what they've done right and learn from their goofs. You can then tweak your own designs & user flows based on what you've learned.
One thing you've got to do is a UX audit - think of it as a medical check-up for your app or website. We at Qream really recommend doing this as it can save you time, money and give you some super useful insights.
So, how do you do a UX audit?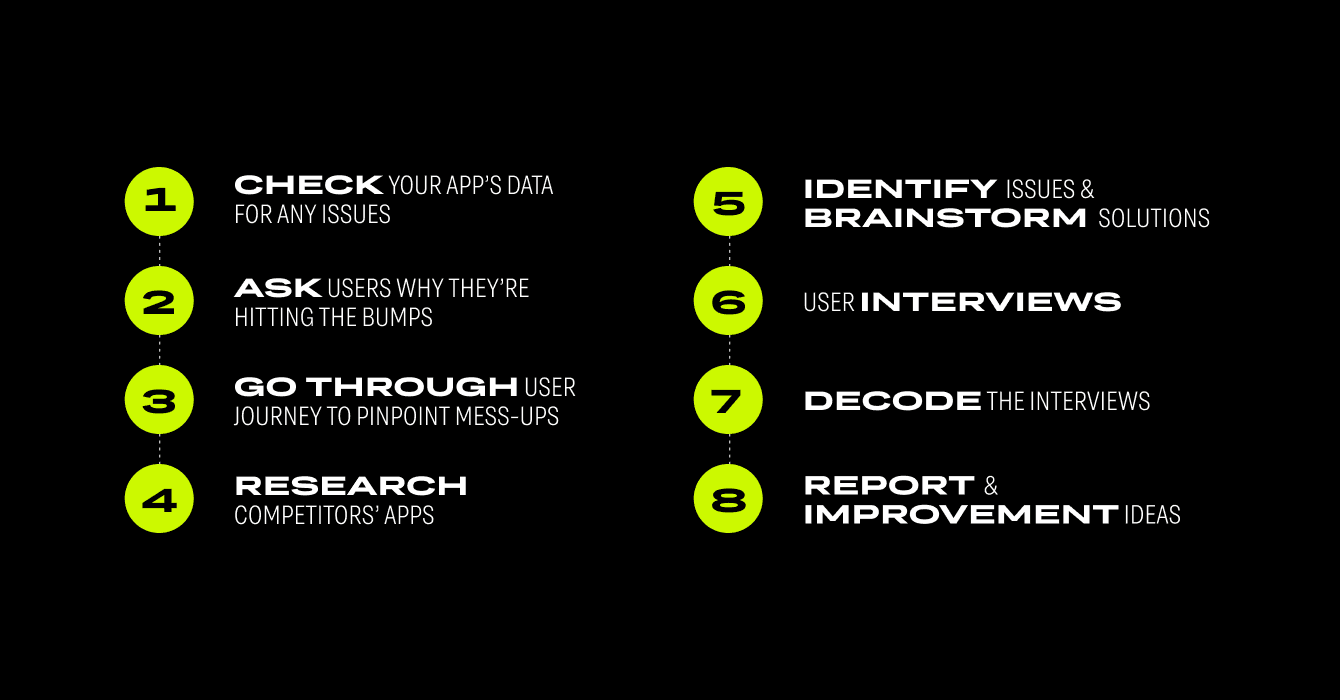 Remember, user flows in UX aren't set in stone. They need to keep changing based on how users behave, advances in technology, and industry trends.
Regularly testing your user flow and getting feedback from users is super important. It'll help you spot what needs to be fixed and make sure your app or website gives your users a great experience.

Types of User Flow Charts
User flow charts can be represented in a variety of ways. Here are a few common types.
Task Flows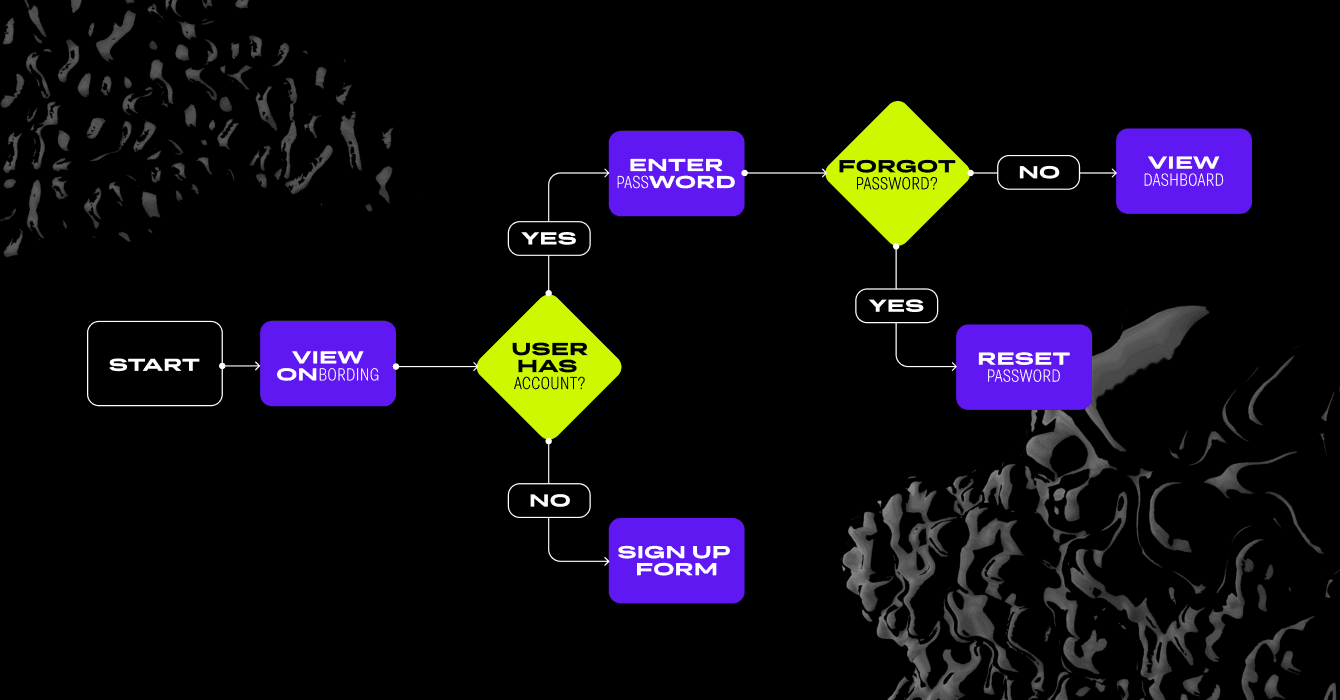 Task flows are specific and linear. They outline the steps a user would take to complete a specific task, assuming no alternative paths or deviations.
User Flows
Unlike task flows, UX diagrams account for the user's decision-making process. They're branched diagrams showing different paths a user might take depending on their choices.
Think of it as a tree with many branches and twigs, each leading to a different outcome.
Wire Flows
Wire flows are a hybrid of UX flowcharts and low-fidelity wireframes. They provide an overview of the user's journey while also giving a glimpse of the interface layout.
They're like blueprints with more architectural details.
How to Design a User-Friendly Interface
Designing a user-friendly interface isn't just about aesthetic appeal; it's about creating an interface that resonates with the user, one that's intuitive, efficient, and delightful.
And user flows play an integral part in this design process.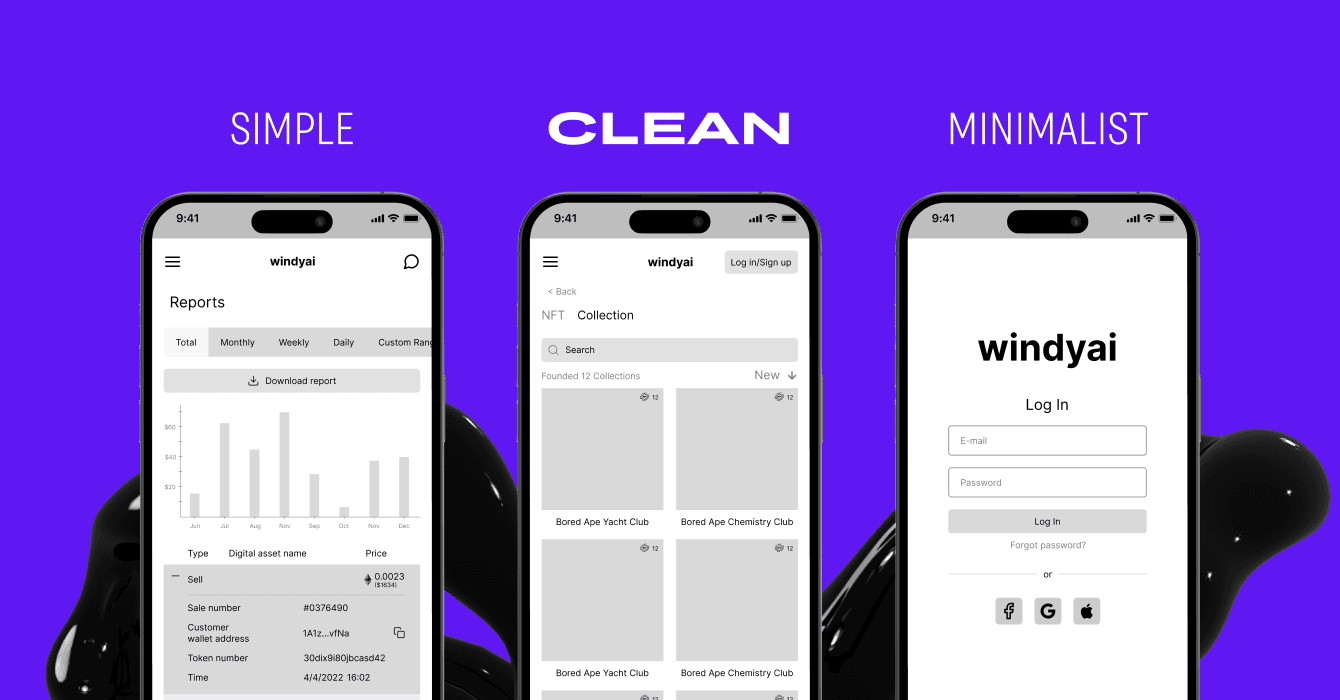 Start by defining the user's goal. What is it that they're trying to achieve? This goal serves as your destination. The next step is to map out the user's flow towards this goal. The key here is to keep things simple and intuitive.
When designing the interface, always prioritize the user's ease. Minimize the cognitive load - the amount of thought a user needs to put in to navigate your interface. Remove unnecessary steps, ensure consistency in your design elements, and provide clear and immediate feedback to user actions.
In What Stage Of The UX Design Process Do User Flows Fit?
There are three main entry stages:
Stage one — Pre-Design Hustle.
You've got to get under the skin of your users - diving deep, scrutinizing your customers, conducting research before you even think about sketching out a design.
Afterward, you're equipped to predict how users will groove with your site or product and you'll have a sharp image of how many screens you need to whip up, not to mention their sequence.
Stage two — Post-Design Showtime.
You've gotta showcase your masterpiece to your crew, the big cheese, or whoever holds the reins. The trick is to paint a vivid picture of your UX flows, demonstrate how your design caters to their needs, and how you're ensuring they have a hell of a ride on your platform.
Stage three — Pinpointing Upgrade Hotspots.
Remember, no matter how shiny the product is, you've got to keep polishing. Improving its quality and user experience with UX flows is the mission.
It's a fact, pinpointing hiccups and locating that imaginative spot begging for an upgrade can be a tough cookie to crack. But, hey, that's the job and you're here to kick some serious UX butt.
Present Your Product to Customers or Coworkers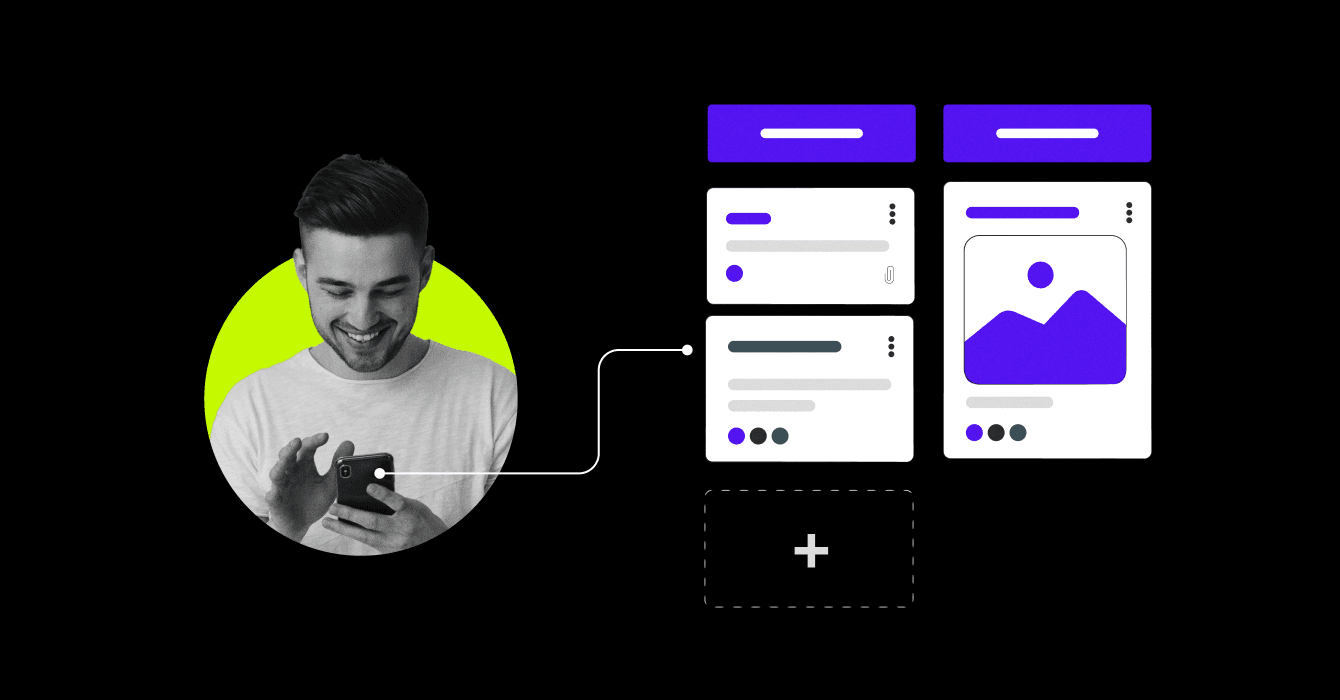 Presenting your product to customers or coworkers is a critical part of the design process. Here, user flows can serve as a powerful tool. They not only clarify how your product works, but also help demonstrate the thought and care put into designing the user experience.
Use user flow diagrams to illustrate the user's journey. Highlight the different steps, the decisions at each junction, and the various paths that a user can take. Transparency in your design process builds credibility, showing you prioritize user needs and preferences.
Qream Expertise In UX User Flow
How do we nail the user flow? User flows are crafted using a magical combo of research, creativity, and a deep understanding of user behavior.
To crack the case of the "user's needs" is possible. Delve deep into analytics, conduct interviews, and maybe even stalk—er, observe—users in their natural environment.
Then use this information to map out intuitive, efficient, and engaging pathways through your digital product.
Just like how a hot fudge sundae isn't complete without the cherry on top, a user flow isn't complete without testing and refining. You might think you've designed the Autobahn of user flows, but until you've got real users test driving it, you won't know for sure.
Use feedback to tweak and adjust until your users are zipping along smoothly.
We highly recommend using UX flows for the following reasons:
Keep it user-focused: User flows help ensure that the design is built around the user's needs and goals, not just what looks cool or innovative. It's a way to make sure we're always thinking "user-first".
Smooth sailing: They help in identifying potential roadblocks or confusion points that could frustrate your user. This way, you're proactively smoothing out any bumps in the road that could lead to users abandoning their journey.
Team Alignment: They help get everyone on the same page. From designers, developers, to clients, everyone understands how the user will navigate the site. It's like a shared language that prevents miscommunications and mismatched expectations.
Efficiency: User flows can save a lot of time and resources in the long run. Plotting user flows from the start prevents unnecessary revisions or redesigns later.
Measurement: Finally, by clearly defining the user paths, you can better track and measure user behavior and make data-driven improvements.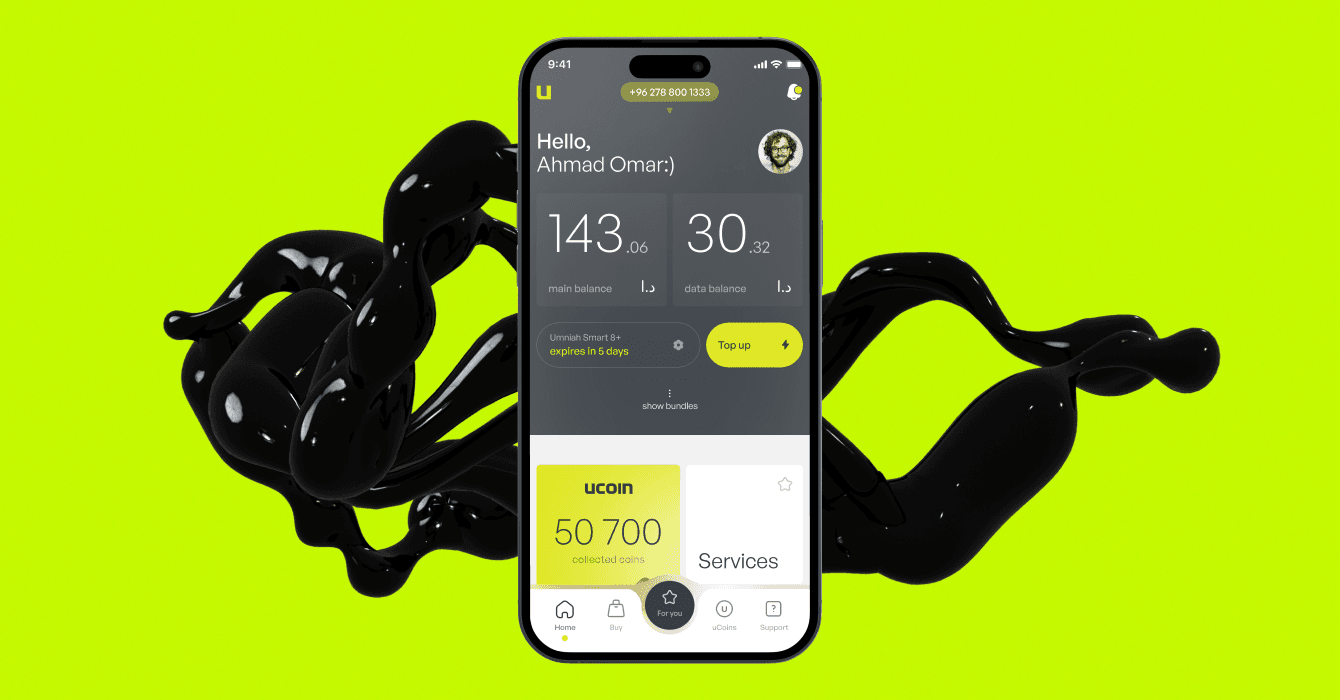 And dude, listen up. Don't you dare overlook the magic that is user flow charts - Q's been there, done that, and we're telling ya it's the real deal.
Check out one of our UX user flow examples, a case study where we waved our UX wand and transformed a blah telecom mobile app into a next-gen, swipe-right-worthy piece of art.
Conclusions
Designing user flows can make or break the UX of your product. Get it right, and you'll have users cruising along a scenic highway, enjoying the ride. Get it wrong, and they're stuck in a never-ending roundabout of frustration.
But hold up! You gotta know the when, the why, and the what type of user flow is going to set your design on fire. Dive into this no-nonsense, power-packed guide and watch your designs go from drab to fab. Now, put on those designer boots and let's make some swag happen. Cheers to UX flows!